Should You Hire a Pro or Do It Yourself?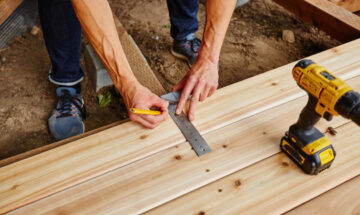 Just like many other homeowners, you might be thinking about adding a deck to your house. There are many issues involved in taking on such a project; therefore, before you begin the building project, you need to decide whether you are the one going to do the job or whether you are going to hire a professional licensed contractor. Let us help you decide which route you should take by asking you the right questions and giving you some advice to help you with your planning.
We would like to caution you, at this point, that one of the biggest things to research with a major building project in your yard is compliance to codes, HOA rules, permits and identifying buried utility lines by calling 811.
The addition of a deck to your home is a great way to expand your living area at a modest cost per square foot. Let's look at a building cost comparison to help you decide whether to move forward with a deck project or not. The "Cost vs. Value Report" from "Remodeling" magazine says that the national average cost to have a basic, 320 square foot, all pressure-treated wood deck professionally built is $45 per square foot. If you compare that to the national average cost for a 200 square foot midrange kitchen remodel at $342 per square foot, adding an outdoor living space becomes very attractive.
However, the $45 per square foot quoted above is only a reference point. That figure can vary greatly according to how much DIY work you are willing to do and how simple or complex your deck design is.
Another factor that helps you to determine whether to do the deck yourself is its size. Smaller decks cut down not only on the amount of decking you'll use, but also the number of posts, piers, joists, screws, and metal connectors that you will need to put in the right places. They also take less time to build, which will be a factor in determining which course is right for you to follow.
A square or rectangle deck is straightforward. But, when you start adding curves, multiple levels, and herringbone decking patterns, you can tack on another 30% to 50% onto your costs, not counting the time and energy you would have to put into figuring out how to get the more complex design accomplished if you decided to do it yourself.
While a competent DIYer is likely to cut that $45-per-square-foot cost in half, there is always the tradeoff in time — if you're not building decks for a living, you are likely to take three times longer to build your deck than a pro would take.
On the other hand, enlisting a few helping hands can make a do-it-yourself deck project successful without hiring a pro, but it will depend on the complexity of the job. You may want to have a multi-layered deck with a built-in jacuzzi and an additional retaining wall or a fence to add privacy. But, whatever you hope to accomplish with your outdoor living area, the do-it-yourself versus hiring a contractor decision comes down to time, money and skill as well as the additional items listed in the following questions.
Taking on a major deck job can be an expensive project, but you can minimize your costs by doing the job yourself. Let's find out if you are up to the task or if you should hire a professional contractor.

Questions to ask yourself before you take on a DIY project
If you choose to hire a contractor, watch this 30 second video on what to do first.
If you are thinking about doing your deck project yourself, please go to the "Be a Savvy DIY'er" page for more helpful hints.