Lowe's® Severe Weather® Treated Wood with Ecolife
Lowe's Severe Weather treated lumber with Ecolife contains an environmentally-advanced wood protection system utilizing the only integrated wod preservative with a built-in stabilizer. This proprietary system provides maximum weathering protection and enhanced performance.
 The Ecolife preservative is a non-metallic preservative that fights the effects of the sun and weather extremes to repel water, minimize cracking and keep boards straighter.
Severe Weather treated wood with Ecolife is available in decking, narrow widths, decking components, and railing at Lowe's® stores across the United States. 
Lowe's and Severe Weather are registered trademarks of LF, LLC.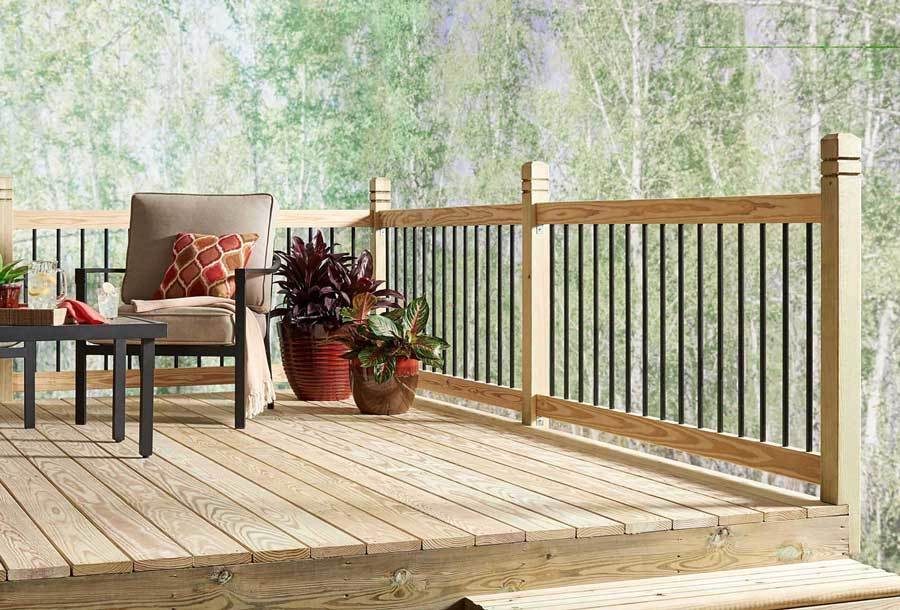 With Lowe's Severe Weather treated wood, you get the added benefits of Ecolife
Lowe's® specifies Ecolife as the preservative of choice for key lumber dimensions for its Severe Weather treated lumber brand. Ecolife is the only wood preservative system in the marketplace that contains an integrated stabilizer, delivering added value that:
repels water
reduces cracking
stays straighter
Lowe's Severe Weather treated lumber with Ecolife is typically used for decking, railing, and many outdoor projects. As a part of a home's overall design, these custom projects require the vision and craftsmanship of professional builders, who rely on consistent quality in their building materials. Their business depends on products that look good and perform without time and money wasted from culling, replacing boards, and call backs. Their projects reflect their reputation. Their Ecolife treated lumber is backed by a warranty they can proudly stand behind. Since the Ecolife preservative launched in 2008, there have been virtually no claims with properly treated wood.
The active ingredient in Severe Weather treated lumber with Ecolife is DCOI. DCOI is a highly effective wood preservative and Ecolife is the only formulation with both DCOI and an integrated stabilizer standardized by the American Wood Protection Association (AWPA) for residential use. Compared to other treated products, Severe Weather with Ecolife is unsurpassed in performance and is preferred by many professional builders.
The Ecolife preservative is a nonmetal-based, environmentally advanced preservative formulation. DCOI (4,5-dichloro-2-n-octyl-4-isothiazolin-3-one), the active ingredient in Ecolife, won the US Presidential Green Chemistry Challenge Award in 1996.
Beyond Treated. Trusted.
Click here to see the difference in Severe Weather treated with Ecolife versus ordinary treated lumber in this :38 video.

Product Applications
Outdoor Projects Six Inches or More from the Ground
Severe Weather with Ecolife treated wood decking is ideal for residential use for decking, deck framing, railing, joists and beams.

Severe Weather with Ecolife is perfect for porches, arbors, gazebos, trellis', and walkways.

Also used in homeowner projects, Severe Weather treated wood is used to build picnic tables, outdoor furniture, benches and playsets.

For commercial agriculture use, Severe Weather treated wood is used for boardwalks, decks, wood framing for outdoor structures, bridges, sill plates and furring strips.
The Qualities That Matter to You
No need to seal for up to two years due to built-in water repellency
Significantly minimizes cracking, checking and splitting by up to 50%
Keeps boards straighter for long-term beauty
Less corrosive to fasteners and compatible with aluminum products
Lifetime Limited Warranty* protects the long-term performance of your project
Severe Weather treated lumber with Ecolife offers a Lifetime Limited Warranty* against damage from fungal decay or termite attack when installed in accordance with applicable building codes. Warranty coverage includes above ground joists, beams and framing members that are critical to the safety and performance of the structure. *See Ecolife Lifetime Limited Warranty for terms and conditions.
Green Certified Product
Ecolife is a non-metallic preservative and is an Home Innovation Research Labs NGBS Green Certified Product for Resource Efficiency. This means Severe Weather treated lumber with Ecolife is eligible to contribute points toward a building's certification under the National Green Building Standard™ (NGBS).
Ecolife is an American Wood Protection Association standard as a complete wood protection system, combining fungicides and biocides to protect and stabilize wood for above ground applications for residential, commercial and agricultural uses, six inches or more from the ground. Ecolife treated wood is used in the following uses or components in these popular projects:
decking, deck framing, joists, and beams
porches, arbors, gazebos, trellis', and walkways
picnic tables, outdoor furniture, benches and playsets
commercial boardwalks, outdoor structures and bridges
sill plates and furring strips
Pro-preferred, Ecolife gives Severe Weather added advantages that ordinary treated lumber does not offer. Professional deck builders receive these benefits with Ecolife:
Minimize lost time and money spent on culling, complaints and callbacks
Offer quality aesthetics and a high-performing natural, wood option
Differentiates their products from the competition
Can offer premium exterior wood products and deck packages for their customers
Homeowners receive these advantages:
No water repellent needed for 2-3 years, reducing initial maintenance
Less surface cracking and checking
Wood decks are more economical and retain more value than all other decking options
Can be finished to match any color scheme
Real wood decks offer natural beauty
Backed by a lifetime limited warranty
Product Information
Ecolife/Severe Weather Product Information
IBC and IRC Building Code Compliant, Ecolife Stabilized Weather-Resistant Wood is AWPA standardized and building-code approved (Use Categories U1, UC3B) for above-ground applications such as decks, fencing, wood framing and similar projects. (Not intended for contact with soil).
The AWPA Standards are the only treated wood standards directly referenced in the IBC and IRC. Look for "AWPA U1" on the end tags of all treated lumber used for exterior projects.
The Prescriptive Residential Deck Construction Guide includes guidance compiled by the American Wood Council (AWC) on provisions of the International Residential Code (IRC) pertaining to single level residential wood deck construction. To ensure that you always have the latest version of the document, please check their website.