Contact us.
Call us: 800-421-8661

Email us: customerservice@viance.net

Visit us: Viance, LLC, 8001 IBM Drive, Building 403, Charlotte, NC 28262, Mon - Fri, 8 am to 5 pm

For questions, email marketing@viance.net or fill out the form below.
We look forward to answering your questions.
Thank you for contacting Viance.
Dan Jones, Manager
84 Lumber, Rozzelles Ferry Road, Charlotte, NC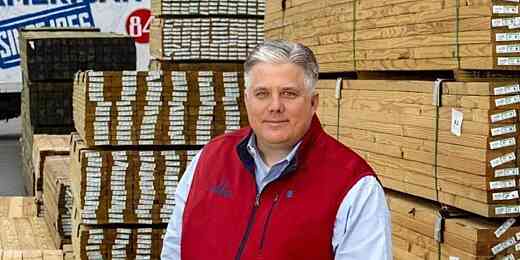 "Ecolife is our brand of choice for pressure treated wood for a couple of reasons. We have seen a great reduction in checking as well as an overall improvement in product appearance. This leads to cost reduction and customer satisfaction."
Bill Gay, National Sales Manager
W.C. Meredith Company
"As a treater, changing to DCOI was a seamless transition with the steam conditioning process plus the DCOI preservative has extremely good penetration all the way to the heart of the wood. UltraPole NXT with DCOI offers additional benefits of less toxicity for lineman, the public and the environment, plus linemen are very happy with the drill-ability and say it climbs beautifully.
Shannon Terrell, President and CEO
Brooks Manufacturing
"The advantage of DCOI for us as a wood crossarm treater, is the preservative penetrates better than penta. To our customers, they will not recognize a difference from penta in color or look of the wood, but they are getting a product with better treating results."
Eric Perez
Florida Lumber, Miami, FL
"Florida Lumber has carried Ecolife for over four years, and we keep our lumber stock outside. The Miami weather can be harsh on treated lumber, and we've seen a dramatic decrease in cracking and cupping in our inventory compared with other treatments. The other big benefit is Ecolife is fully compatible with fasteners and in our constantly humid and moist climate, that is a big advantage to builders. We've done very well with Ecolife, and we probably sell one to two truckloads per week and have lots of repeat customers that return to buy it again."

Calvin Roberts
Vision Ace Hardware, Wauchula, FL
"Vision Ace Hardware has carried Ecolife for at least three years, and we've seen a dramatic drop in our waste from inventory losses. We used to lose approximately 10 to 20 pieces from a 208-piece unit of lumber, and with Ecolife we now lose only 2-3 pieces. Our lumber inventory seems straighter and looks good while in stock here. Our customer base is a mix of commercial and consumer/DIY, and both types of customers have been very happy with Ecolife thus far."

Orlando Tellez, Owner
Sarasota Fence, Florida
"We use Ecolife almost exclusively now and it has been working great so far. We've seen a dramatic decrease in the number of issues like checking and cracking. The treatment can't fix wood issues, but the chemicals in Ecolife definitely do a great job in helping the wood stand up to the rough weather here in Florida."
Thad Schuler
Southern Lumber Millwork, Charleston, SC
"We've carried Ecolife since March 2012 and have been pleased so far. We generally turn our truck-load orders quickly and deliver nearly full loads to job-sites, and our contractor customers also seem happy with Ecolife."

Eric Hayes, Purchasing Director
Parks Building Supply
"We converted our treated lumber to Ecolife at the beginning of 2012. Since the conversion, our cull rates have declined drastically and our loaders have the ability to pull quality loads without having to sift through lumber. We have had zero complaints from customers since the change! Ecolife not only gives Parks a superior product but also gives me the confidence that our customers are going to be completely satisfied, and superior customer service is what we strive to deliver day in and day out."

Rob Thompson, Assistant Manager
Guy C. Lee Building Materials
"We find once we explain and demonstrate the benefits of Ecolife, it's a hands-down winner, and consumers come looking for it. We stock some #2 and some premium grade dimensional lumber in Ecolife that our professional customers are now also seeking out, and they've grown accustomed to finding it in our warehouse. Pros are appreciating the better product performance, and that has helped Guy C. Lee Building Materials stand out by carrying a quality product at a fair price."

Jim Melchiorre, General Manager
Tri-County Lumber, Berwick, PA
"When you're trying to be the best in a down economy, it's tough. We first learned about Ecolife by recommendation from another dealer, and Ecolife has been positively received by our customers since we started carrying it. The Ecolife treated lumber that we sell helps differentiate Tri-Country Lumber from our competition. Ecolife helps us stand out in the marketplace, and we'd never consider switching away from it."

Bob Heidenreich, Owner
The Deck Store, MN
"Because it repels moisture so effectively, it doesn't crack and warp in wet environments like other types of treated lumber. We highly recommend it for framing, substructures, and decks. Ecolife is our first choice. You can't build great decks with bad materials."

Danny Talbert, President & Owner
Talbert Building Supply, Durham, NC
"Talbert Building Supply has been selling treated lumber from Tucker Lumber for over 20 years. Their quality lumber and service is second to none. Since their conversion to Ecolife, we have had fewer complaints about lumber shrinking and warping. After the unusually hot summer we have experienced, that is very important."

Mark Duncan
Legacy Building Company, Roxboro, NC
"We at Legacy Building Company use Ecolife Treated Lumber often and have had no call backs or complaints. We are very happy with the product and will continue to use it on all our projects."

David Morris
J.D. Morris Construction, Durham, NC
"I just recently finished a project using Ecolife Treated Lumber which I also plan on entering into the Bass Boat contest. My client, and ex Bass Master, is ecstatic about the project and also the chance of winning a Bass Boat. They could not be happier with the end result or the product. We plan to use it more in the future."

Dee Pasteur
Yandle's Building Materials, FL
"We are convinced Ecolife is a better-treated wood product. Out in the yard, boards remain straighter and look nicer for a longer period of time. Our inventory shrinkage is lower due to fewer boards going bad on the rack. Best of all, we have repeat customers coming back and asking for Ecolife because of its performance for them as well. Word of mouth has spread, and business for Ecolife is definitely growing."

Larry Reese
Woodland Building Supply, PA
"We have been very happy with Ecolife Stabilized Wood. We store our treated products outside and have noticed significantly less culling since we switched our inventory to Ecolife.
Ecolife has been a home run for us and our customers. Our customers are very happy with the performance in the field. Ecolife yards better and is a greener, safer product for us and our customers to handle at relatively the same price point."

Jim Cataquet, Buyer
Williams Lumber, NY
"We switched to Ecolife early on, and Williams Lumber has been very satisfied with Ecolife. Ecolife lumber yards well on our steel racks, and our builders like that it is less corrosive to their fasteners in the field."

Wilbur Wallace
Wallace Builder's Supply, Carrrollton, GA
"We've carried Ecolife for about two years and it has a better shelf life than CAC or MCA. We've had fewer culls from inventory since making the switch to Ecolife.

Mark Garrett
Buy Low True Value Hardware, Rockmart, GA
"We've sold the dark and lighter treatments in the past, and Ecolife seems to stay "newer" longer. We carry mostly decking and 2-by's in our covered storage and the inventory holds up better and we're having fewer culls. We're very happy with Ecolife here in the store, and I never get complaints from my customers about it."

Jeff Rorex, Homeowner
Georgia
"I used Ecolife to build a 24' x 36' deck around my above-ground swimming pool to make the pool easier for people to use. I chose Ecolife because of the consistent uniformity in the appearance of the deck boards and the warranty. I installed a composite deck about ten years ago, and have never really been happy with it, and wish I could have used Ecolife instead back then. The clarity and natural wood beauty of the Ecolife deck boards is impressive, and I have recommended Ecolife to friends and would continue to recommend it in the future."

Joseph Miranda, Homeowner
Georgia
"Our home was built 30 years ago, with a ground-level entrance deck up to a landing and front door. After the original deck passed its useful life, we decided to rebuild the deck on its original footprint since it functioned not only as a distinctive entry-way but also as an extended outdoor living space integrated into the front-yard landscape.
We chose Ecolife, first because of its appearance. We wanted the look of authentic wood, in place of the synthetics, the promise of a long life as we had with our original wood deck, and the ease of construction that came with using stabilized, dimensioned wood, as well as the integrated eco-friendly wood preservative and weathering treatments. We also wanted to balance cost with quality, for both final appearance and quality of construction. We were also looking for a product that would weather naturally and hold up well under our challenging coastal climate of heat and humidity. Ecolife fit the bill and has been performing well."

James Wolfe, Homeowner
Ohio
"We built a 16'x25' deck using Ecolife. I am in the process of building benches and flower planter boxes for the perimeter in lieu of a railing. In my area, I had a few lumber yards to choose from and spent a lot of time talking with staff members about their products and of course pricing. The YouTube video describing the product side-by-side with the competitor sample was very helpful and informative, and the "green" benefits and affordable price were also huge in our decision process.
Working with the Ecolife product was very nice compared to other products I have used in the past. The decking also sat in the sun for a few hours and there was no board warping or twisting. The boards cut very easy and did not split while using self-drilling screws even when screw placement was near the edge. I will definitely be using Ecolife when I rebuild my pond dock later this summer!"

Please note that Viance manufactures and sells the treatment preservatives to wood treaters.
Viance does not make or sell treated wood lumber.