I just got a fence installed with ground contact pressure treated 4x4 posts. I think it is your Preserve. Do I need to treat the cut ends of the posts? They look to be green all the way through but I wanted to be sure.
Construction projects necessitate the need to cut and drill into wood. Building codes and the American Wood Protection Association (AWPA) Standard M4-15 require "all cuts, holes and injuries such as abrasions or holes from removal of nails and spikes which may penetrate the treated zone shall be field treated." The extra effort protects the longevity that the preservatives offer.

Copper naphthenate is one of the most used preservatives for cut ends and holes. The minimum recommendation is 2% copper metal with 1% copper naphthenate appropriate in those regions of the country where the higher concentration material is not readily available.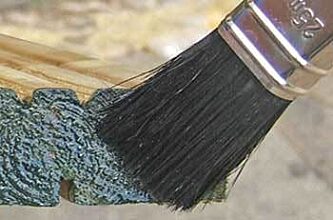 Another two preservatives, oxine copper and inorganic boron can be used for field treating in above ground applications. Oxine copper can be used for applications originally treated with oil-borne or waterborne preservatives. Oxine copper preservatives, containing the recommended minimum .675% oxine copper (0.12% copper metal), are available colorless or in various colors and have little odor, according to preservedwood.org. Inorganic boron can be used in applications originally treated with a waterborne treatment and in areas continuously protected from liquid water.
These topical preservatives are available in the retail market and can be purchased at local home centers, building material retailers and paint stores who stock products for wood decks or ordered online. Be sure to follow the preservative's manufacturer's application instructions.